Aculops fuchsiae: FUCHSIA GALMIJT
-an eriophyid mite
Achtergrond
De Fuchsia gallmite (Keifer) uit Brazilië werd voor het eerst beschreven in 1972. In 1981 verschenen fuchsia-mijten in Californië, waar ze zich snel verspreidden en de fuchsia-industrie terug brachten. Tegen 2003 hadden kwekers in Bretagne, Frankrijk, te maken met galmijtplagen. Tegenwoordig zijn ze ook in het VK en in Nederland. In de Pacific Northwest had de fuchsia-gallmijt planten met tussenpozen van meer dan tien jaar besmet. Eerder in 2004 en 2005, werden ernstige plagen aangetroffen in tuinen van Tacoma tot Portland, vermoedelijk vanwege de warme winters. Tegen de zomer van 2006, na een koude winter, werd in de tuinen geen schade aangetroffen aan winterharde fuchsia's. De mijten schenen te zijn bevroren.. De Northwest Fuchsia Society (NWFS), voornamelijk in Western Washington & Oregon, VS, verzamelde en verspreidde informatie over fuchsia galmijt en hoe het probleem te minimaliseren - voordat het uit de hand liep. Gebruikmakend van meer dan 20 jaar ervaring uit California's en met inbreng van Northwest-telers, zou het effectief omgaan met fuchsia-mijten mogelijk moeten zijn wanneer problemen met de galmijt weer zou optreden. Informatie op deze site zal worden bijgewerkt naarmate er meer wordt geleerd.
Fuchsia galmijt herkennen
De Aculops fuchsiae, een eriophyidmijt, kan niet met het blote oog worden waargenomen en deze mijten vermenigvuldigen zich snel. Ze hebben alleen invloed op fuchsia's en mogen niet worden verward met 'spintmijt'. Ze hebben twee paar poten en lijken op wormen. De fuchsia-mijten leven en reproduceren in de plooien van aangetast weefsel en tussen plantenharen. Zonder een 40 + x-microscoop kan hun aanwezigheid alleen worden geïdentificeerd door de grote schade die ze veroorzaken: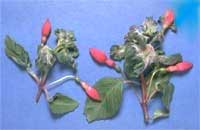 (Courtesy of AFS)
Plantendelen (bladeren, bloemen, stengels) worden samengesmolten, gedraaid en opgezwollen en vormen gallen.
Geïnfecteerde gebieden kunnen er harig uitzien met roodachtige en witachtige gebieden.

Vroege detectie - nieuwe bladeren worden dikker, worden rooder, worden harig en er ontstaan ​​dikke bulten en bobbels. Tuinders die fuchsia-galmijten vermoeden en dit willen verifiëren, moeten een aangetast deel van de plant afsnijden en dit laten onderzoeken. Ga er niet vanuit dat de plant galmijt heeft indien sommige bladeren gekruld of ongezond zijn (bladluizen en andere insecten kunnen dit ook veroorzaken!)
De levenscyclus van Aculops fuchsiae is 2-4 weken met vier stadia: ei, larve, nimf, volwassen. De vrouwtjes leggen in één keer ~ 50 eieren, en binnen 1-2 weken komen ze uit. (Als zelfs de helft van die 50 eieren babymijten produceren, zijn er in een mum van tijd honderden!) De mijten zijn expert in het verstoppen in plantstructuren om zich zelf te beschermen. Het beheersen ervan is moeilijk, maar niet onmogelijk. Verspreiding van fuchsia-galmijten wordt gedaan door de wind, insecten, vogels en vooral door tuinders die een geïnfecteerde plant meenemen naar anderen. De mijten kunnen zich ook verspreiden via handen, kleding en haar
PREVENTIE EN CONTROLE
BIOLOGISCHE CONTROLES: Aculops fuchsiae heeft roofdieren waarvan sommigen beweren dat ze in Californië hebben geholpen, maar deze roofdieren kunnen niet bij al deze ongrijpbare, kleine fuchsia-mijten terecht. Het besturingspotentieel is hier beperkt.CLIMATISCHE CONTROLE: met 7 nachten met temperaturen in de tiene en laag in de 20-er jaren in de winter van 2006, is het potentieel voor klimatologische controle in West-Washington en Oregon beter bekend geworden. Zelfs 3-4 nachten met lage temperaturen lijken de mijten te doden. Vermoedelijk is een minimum temperatuurbereik gevonden of misschien is het de lengte van de bevriezing waaronder galmijten niet kunnen overleven. We weten nu dat plagen in tuinen met fuchsia's die de hele winter buiten liggen, een probleem van 'warme winter' zijn. Op winterharden, die tussen de 3-4 nachten vorst krijgen, gaan de mijten dood.
CONTROL BY FUCHSIA GROWERS: How fuchsia growers raise their fuchsias has an enormous effect on spreading fuchsia mite. Advice from the American Fuchsia Society (AFS) based in San Francisco, suggests 3 approaches:
1. Destroy fuchsia mite infected plants. New starts are inexpensive. They should be purchased from fuchsia specialists who are aware of the problem and have a program to avoid it. ASK! If they can't or won't tell you, go elsewhere.
Then consider…
2. Grow hardies outdoors, all year in the PNW. Let freezes control the mites.
3. Raise Gall Mite Resistant and Immune fuchsias. Some fuchsias show ugly galls, but not all. Brazilian fuchsias, where the mite originated, have developed resistance to the damage. Mites may be present, but damage is minor. Several species are resistant to the damage and pass that trait on to their offspring. Some fuchsias are even immune to damage. Hybridizers in California are raising new cultivars specifically for their gall mite, damage resistance. They are appearing in PNW fuchsia nurseries.
4. If mite damage appears and destroying the plant is not an option
: Prune out the damaged area in the plant parts.
Use chemical controls- choices listed below.

Prevention- For greenhouse plants and/or plants that don't freeze:
Start chemical controls in dormancy just BEFORE the new leaves appear.
Saturate the plant &soil.
To be successful, you need to be persistent and follow directions carefully.
For the dormant period (fall & winter) in greenhouses, prune plants severely.
Deeply planted hardies may be pruned even harder.
Remove the leaves, young stems & most leaf nodes, galls, & loose bark
where the mites reproduce, feed and over-winter.
Clean up underneath the plants. Give fuchsia mites as little area as possible
to hide in.
During the plant's growth periods (spring & summer), cut out any fuchsia mite
infected area: cut two nodes below it.
Develop a spraying program to delay more mites hatching (see below) & to keep
plants healthy.
In general, establish a program to keep plants healthy; stick to it so that you
don't spread mites to neighbors and re-infect your own plants.
Do not work on an infected plant and then go to one not infected.
YOU will just spread the mite.
In handling infected plant material, wear disposable gloves, burn the plant
material or place it in a plastic bag, tie it up snuggly, and put it and the gloves
in the garbage.
Do NOT compost or recycle it.
Shower and change your clothes before you work on clean plants—don't let
the mites hitchhike on you.
Disinfect tools and containers.
If possible, isolate infected plants and keep animals away; they could also carry
mites to other fuchsias.
CHEMICAL CONTROLS:


IMPORTANT- Whatever chemical controls you use…
1. Choose products specified for Aculops fuchsiae/fuchsia gall mite or eriophyid mites & safe for fuchsias or ornamental plants. Notice whether it's an indoor or outdoor product. Names of pesticides can be similar and confusing. Read the label !
2. Read the directions carefully and follow them so that plants are not re-infected.
3. Read and follow the safety precautions. Some products are toxic to humans and other animals.

CONTACT SPRAYS- Partial/Temporary Control
After pruning and cleaning up infested plants, contact sprays can help control mites. Saturate the plant because light applications will build immunity. With contact sprays you want to get the new hatchlings, so remembering the life cycle, three applications, 7-10 days apart are needed- or as directed for fuchsia mite on the product. Some will recommend 4 days apart.

Contact sprays include horticultural oils and soaps which smother the mites (as well as other pests) like Safer Oil & Ultra Fine Oil (by Sunspray), Volck Oil (by Chevron), Hot Pepper Wax…
To be most effective, use with a 'spreader sticker'.
Control potential is limited with contact sprays; plants may get re-infected.

If you have had serious gall mite damage and/or have many fuchsias, you may choose stronger products with active ingredients that kill fuchsia mites. They have a much higher control potential, are relatively safe when correctly used and are longer lasting. For example- Sevin in 2012 has an active ingredient called carbaryl that kills eriophyid mites. However, it is a hazard to bees and aquatic life. Keep away from standing water; remove any blossoms that may attract bees. Spray outdoors and let dry if bringing back indoors.) NOTE: a product listed as effective on "mites" refers to spider mites and not to eriophyid mites. Look for key words: miticide, acaricide--eriophyid mites

SYSTEMICS- The Most Effective Control

Most effective are products with systemic qualities, but again, there are hazards to consider.
Commercial nurseries have access to products not available to the public. "Avid" brand is one that is effective on fuchsia mite but leave these treatments up to the professional grower.
BRON:
American Fuchsia Society- www.americanfuchsiasociety.org;